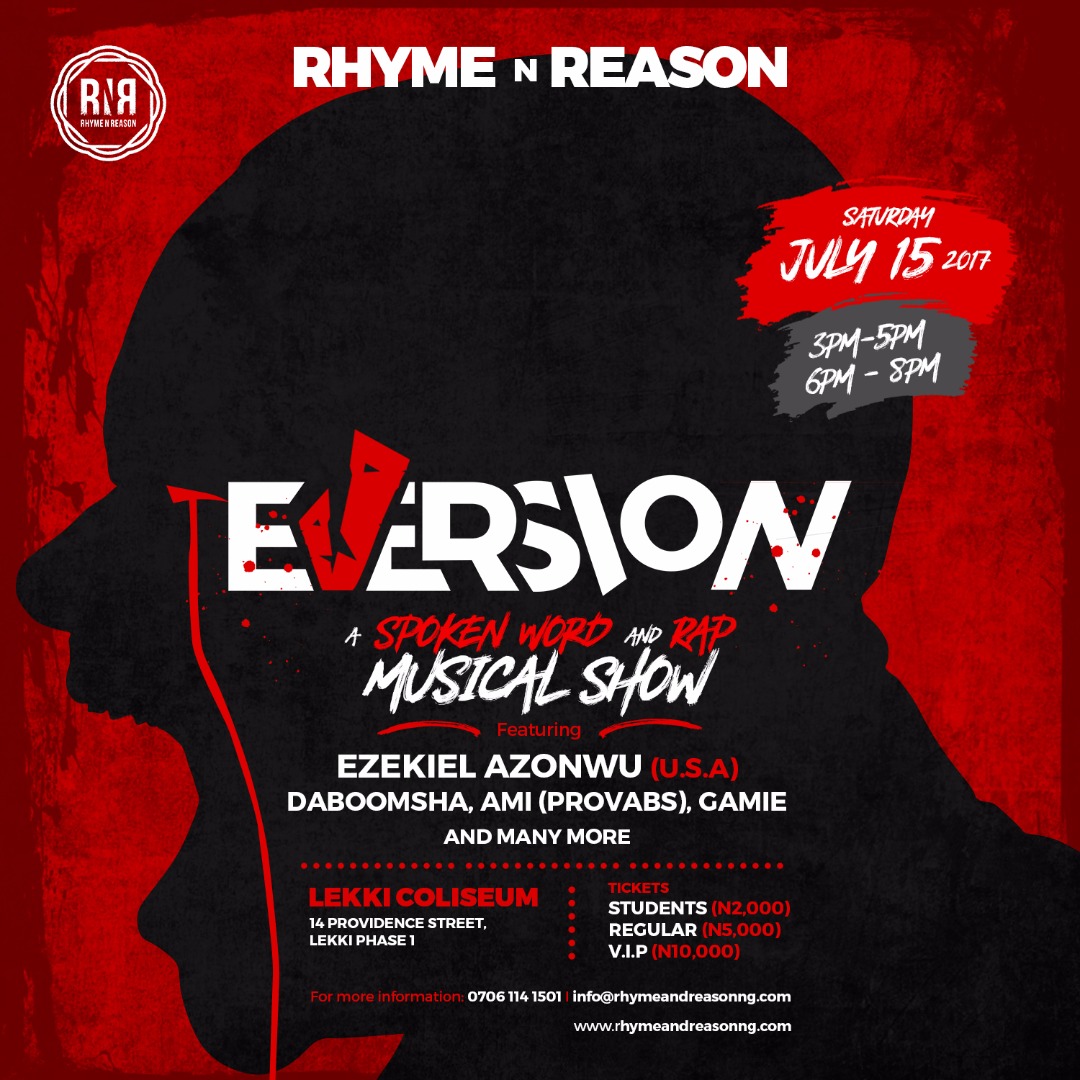 MOST BROADWAY SHOWS ARE MUSICALS BUT…
Some plays are also performed.
Imagine infusing RAP, POETRY and SPOKEN WORD to a Broadway. Have you imagined it? Yes, that is what we are bringing to you. Rhyme & Reason is doing a Broadway show in RAP, POETRY and SPOKEN WORD tagged "EVERSION" this year.
Date: July 15, 2017
Time: 3 – 5pm & 6 – 8pm
Theme: EVERSION
Where: Lekki Colliseum, 14 Providence Street, Lekki Phase 1
Why Attend?: Because you have to see what we have in store
Cost: Students (N2000), Regular (N5000), VIP (N10,000)
Get your tickets at Spiricoco & Ariiya Tickets
The 'Rhyme and Reason Company' is a youth focused organization with a goal of deliberately creating wholesome content and opportunities for youth development and expression, especially in the Arts. Over the past three years, with a focus on Spoken Word, Poetry and Rap Music, we have successfully hosted two first-of-their-kind concert events featuring local and international artists, to the appreciation of over 2000 youth. We are bringing to reality this year's project, another first-of-its-kind, 'Broadway style production in prose', featuring Spoken Word, Poetry and Rap.
To learn more
Visit www.rhymeandreasonng.com,
Follow us on twitter @RandRConcert
Follow us on Instagram @RhymeAndReason_Ng
Be "Like us" on Facebook @RhymeandReasonng
Thank you for reading.
Expect the best!!!!
HOW HAS THIS IMPACTED YOUR LIFE?